In the waste wood processing industry, railway sleepers are among the most difficult materials to shred. They are made of very hard wood and often still contain iron screws and plates. When Gojer, Kärntner Entsorgungsdienst GmbH was faced with the challenge of shredding these sleepers, they opted for the Urraco 95 DK mobile twin-shaft shredder from Lindner-Recyclingtech at the end of August 2017. How does the 770 HP mobile machine perform in terms of throughput, energy consumption and efficiency? Gojer looks back on a very positive first year.
Albert Einstein is claimed to have once remarked, 'Wood chopping is so popular because you can immediately see the results.' At Gojer, Kärntner Entsorgungsdienst GmbH in Völkermarkt/Austria, however, wood is not simply chopped: railway sleepers and other waste wood are shredded in large quantities. For over a year, the Urraco 95 DK mobile shredder has been helping the firm tackle the task.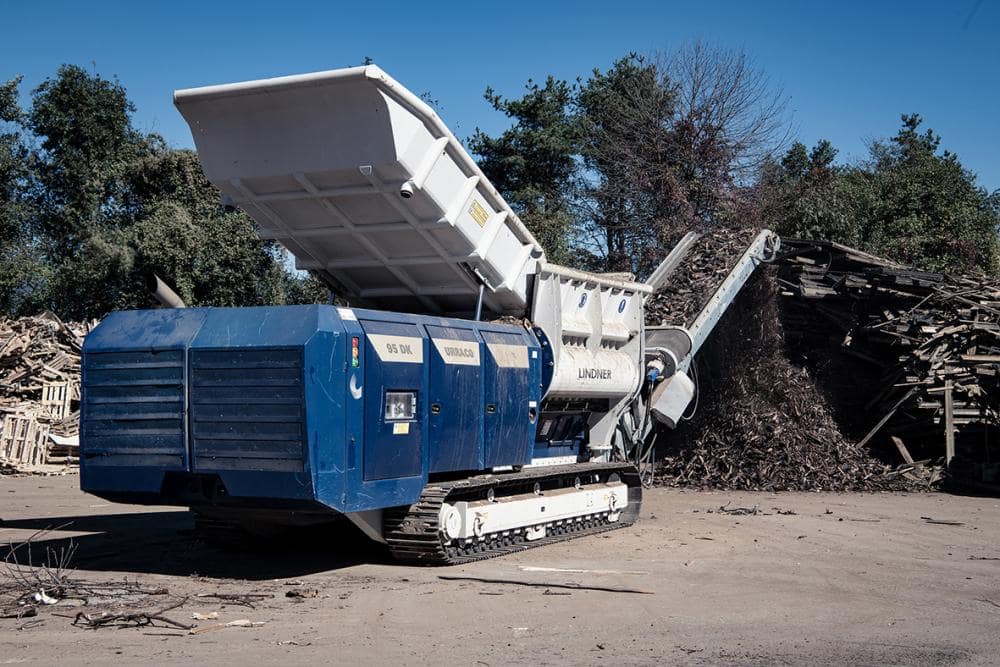 Over 10,000 metric tonnes of railway sleepers shredded
The tracked Lindner mobile twin shaft shredder, featuring two speeds and an intuitive radio remote control, has already processed more than 24,000 metric tonnes of waste wood, including more than 10,000 metric tonnes of decommissioned railway sleepers. Gojer's input material is acquired from Austria as well as neighbouring European countries. After shredding, the material is transported to an incineration plant in Austria, which is the country's only facility fitted with a special filtering system for the incineration of treated railway sleepers. The Urraco 95 DK is designed for high throughput rates and is capable of generating a higher output, i.e. more of the facility's capacity could be utilised should more waste become available on the market, notes Oskar Preinig, Managing Director of Gojer, Kärntner Entsorgungsdienst GmbH. He also added that 'depending on the requirements and the material, the machine can shred 140 metric tonnes of waste wood per hour.'
900 operating hours clocked before first shaft replacement
Oskar Preinig knows of no other shredder as powerful as the 770 HP Urraco 95 DK, especially for processing railway sleepers. 'Railway sleepers are made of very hard wood', says Preinig when asked about the challenges facing the shredder. 'This wood does not break as easily as other types and is therefore much more difficult to shred than conventional waste wood. The Urraco 95 DK accomplishes the task with flying colours and is extremely resistant to unshreddables.' Railway sleepers often contain iron plates, screws and nails. In the facility in Carinthia, these elements are separated from the material flow post-shredding by downstream overbelt magnets. 'The metal parts in the input material represent an additional challenge for any shredder', admits Oskar Preinig. 'But they don't faze the Urraco 95 DK. It is always impressive to see how the shredder processes these iron parts without suffering any damage.'
Gojer was particularly impressed by the fact that during its first year of operation, the Urraco 95 DK only required its first shaft change after 900 operating hours. 'That's a long time considering the amounts we process', says Preinig. 'The machine is also very cost-effective if you weigh up performance and fuel consumption.' To achieve maximum engine output, the machine's powerful hydraulic system is equipped with a Lindner two-tower planetary gearbox. That is why the compact and robust Urraco 95 DK is able to effortlessly achieve the required output size of 150 millimetres.
This was also confirmed by operations manager Florian Kordesch, who once again reiterated the stability of the shaft system, which features a shaft length of two x 2,500 mm and fourfold crushing and cutting action per shaft rotation. The automatic and load-dependent reverse mode is also an indicator of the machine's cost efficiency and commanding performance when it comes to unshreddables. As Florian Kordesch puts it: 'Lindner has kept its word. What's more, we completed almost 900 hours of shredding with the first set of shafts: an incredible performance.'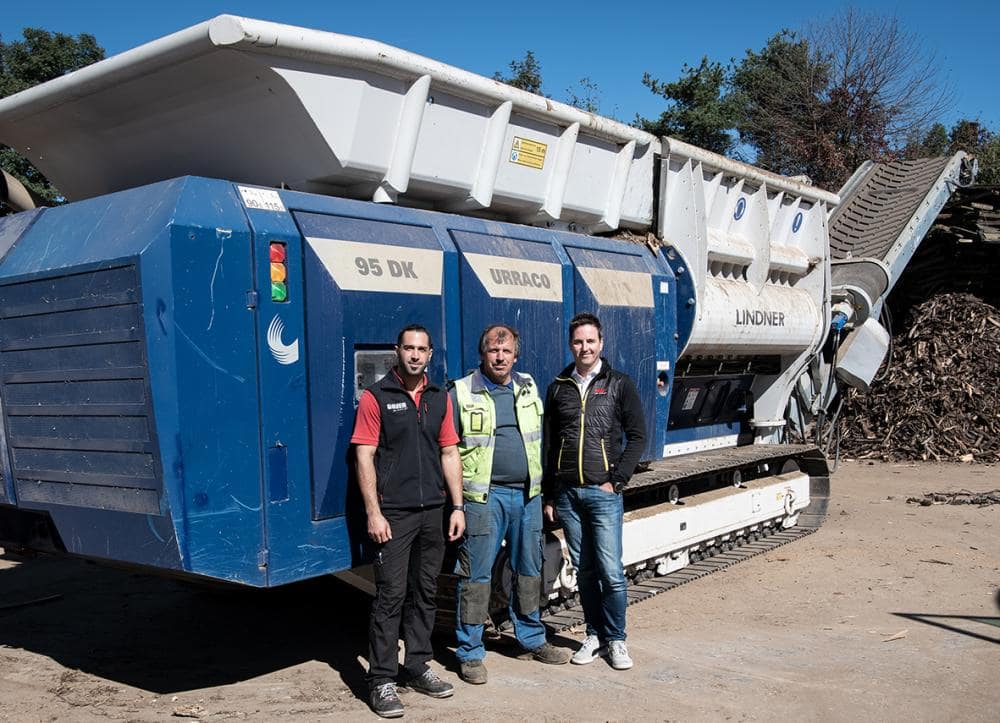 Efficient from start to finish
According to machine operator Stefan Pinter, machine failures due to unshreddables can be ruled out. The tearing hooks always pull in the sleepers uniformly and very efficiently. Furthermore, the Urraco 95 DK is hardwearing, maintenance-friendly and, according to Pinter, easy to operate. 'It's possible to operate the machine entirely from the wheel loader, which is used to feed the shredder. Only one person is needed to operate and feed the machine,' says Pinter. 'The joystick remote control and the touch display on the machine itself are really convenient and extremely easy and intuitive to use.'
For Oskar Preinig, investing in the Urraco 95 DK mobile shredder paid off right from the start. And after using the machine for one year, he concludes that the shredder has significantly reduced costs per metric tonne. He is also keen to stress its performance and efficiency: 'The Urraco 95 DK does its job perfectly.' But what is even more important to Gojer's managing director is the fact that in Lindner, his company has found a trustworthy partner. 'Lindner, like Gojer, is a Carinthian family business. We are proud and delighted to be able to realise this project together with Lindner,' explains Preinig, emphasising the two companies' unique relationship of trust.
Gojer, Kärntner Entsorgungsdienst GmbH is one of the largest waste management companies in Carinthia, with over 60 modern waste collection vehicles in its fleet and a liquid waste treatment facility. The company is based in Kühnsdorf in the district of Völkermarkt, Austria. A family business founded in 1965, its portfolio now includes waste disposal, used clothes collection, as well as street, sewer and tank cleaning in more than 30 municipalities in southern Carinthia. Whether it is municipal solid, industrial or commercial waste, construction waste, bulky or hazardous waste, container services or portable toilet hire in the municipal sector for corporate and private customers, every day around 100 members of the Gojer team are in action working to keep the environment clean.
Lindner, Spittal an der Drau/Österreich (www.l-rt.com): The company, which is celebrating its 70th anniversary this year, has been offering innovative, tried-and-tested shredding solutions for decades. From planning, development, design and production to service, everything comes from a single source. At its production facilities in Spittal/Drau and Feistritz/Drau in Austria, Lindner manufactures machines and system components that are exported to almost one hundred countries. In addition to stationary and mobile shredders for waste processing, the portfolio also includes complete systems for plastics recycling and SRF processing. The shredders can be used for municipal solid waste, commercial and industrial waste, plastics, packaging material, paper, light scrap and waste wood.
Reported by Pia Steiner, PR & Marketing, Lindner-Recyclingtech GmbH
"*" indicates required fields