Jupiter

The award winning Lindner Jupiter single-shaft primary shredder combines everything you need for efficient 24/7 operation: a powerful countershaft drive, a well-engineered machine design and high manufacturing quality. Undefeated by non-shreddables, our tried-and-tested technology ensures a long service life and low maintenance coupled with the necessary power to shred even the toughest materials – year after year and ton after ton.
Downloads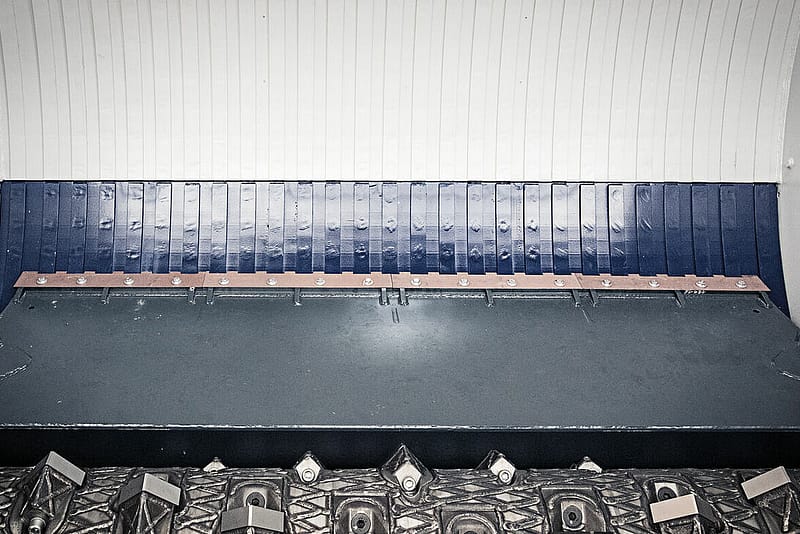 INTERNAL PUSHER
More info

Close
INTERNAL PUSHER
Lindner's original: tried and tested a thousand times over, our internal pusher allows for easy and secure machine feeding. Our years of experience and continuous development have left their mark on its distinctive design.
due to smooth feeding.
EASY FEEDING
with a completely internal construction.
DELIGHTFULLY MAINTENANCE-FREE
thanks to the absence of guide elements.
NO JAMMING
as a result of additional comb and sealing bars.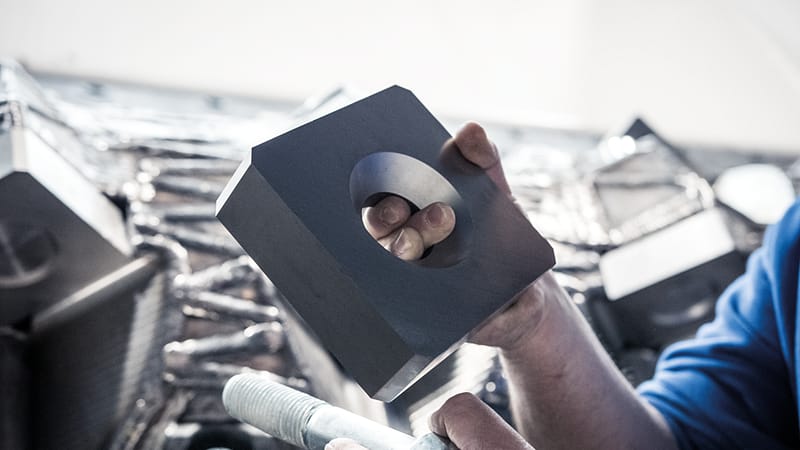 ROBUST SQUARE CUTTING SYSTEM
More info

Close
ROBUST SQUARE CUTTING SYSTEM
Specifically made for the toughest conditions: these particularly robust cutters and cutter holders make the Jupiter series' cutting system impervious to foreign objects, resulting in a long service life and high output rates. The double cutting counter knives and scrapers as well as the cutting gap that is adjustable during operation let you enjoy continuously high output rates for consecutive processes.
even with tough materials.
MAXIMUM SERVICE LIFE
ensured by our quadruple-use, quick-change knives.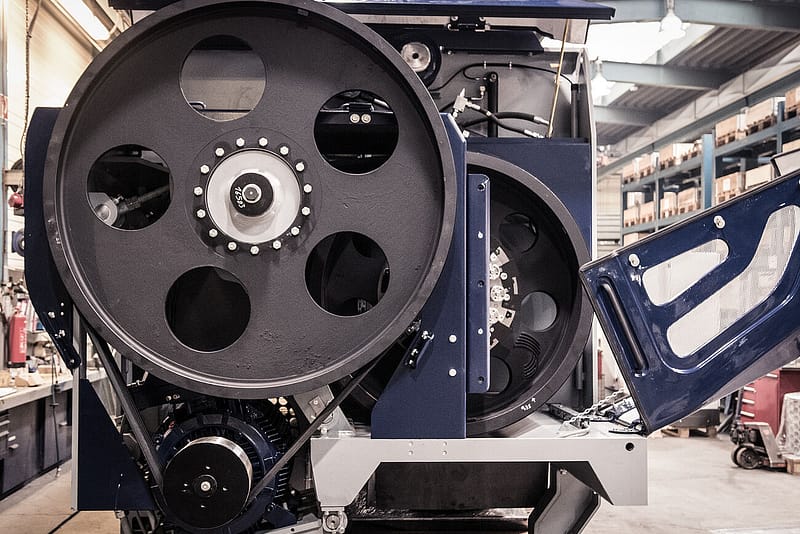 COUNTERSHAFT DRIVE
More info

Close
COUNTERSHAFT DRIVE
More efficiency with our smart technology: our countershaft drive stores and releases rotational energy depending on the load, meaning more power yet less energy consumption.
MORE POWER FOR TOUGH MATERIALS ENSURED
with additional flywheel mass.
READILY AVAILABLE WORLDWIDE
due to easily exchangeable standard parts.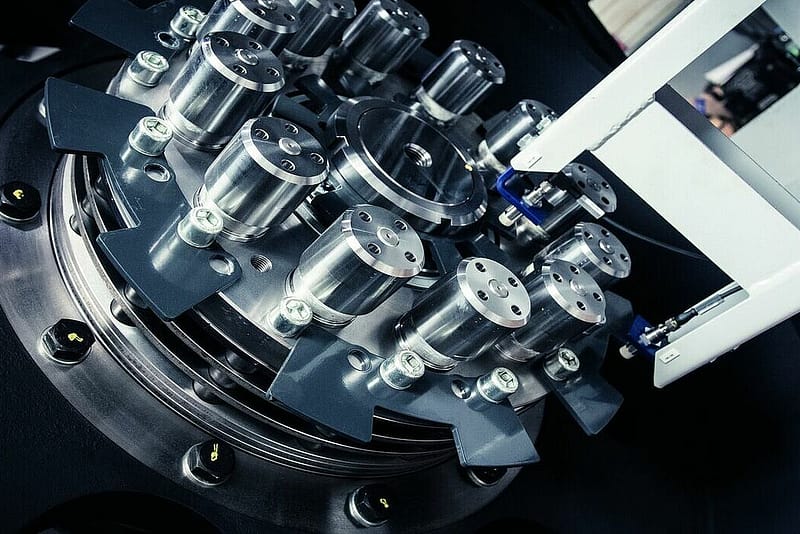 TORQUE-LIMITING SAFETY CLUTCH
More info

Close
TORQUE-LIMITING SAFETY CLUTCH
The torque-limiting clutch protects against damage to the drive unit when blockages are caused by foreign objects. Furthermore, the highly precise sensors facilitate the controlled powering down of the machine to preserve all components.
thanks to the drive unit's instant mechanical disengagement.
GUARANTEED SECURE POWER DOWN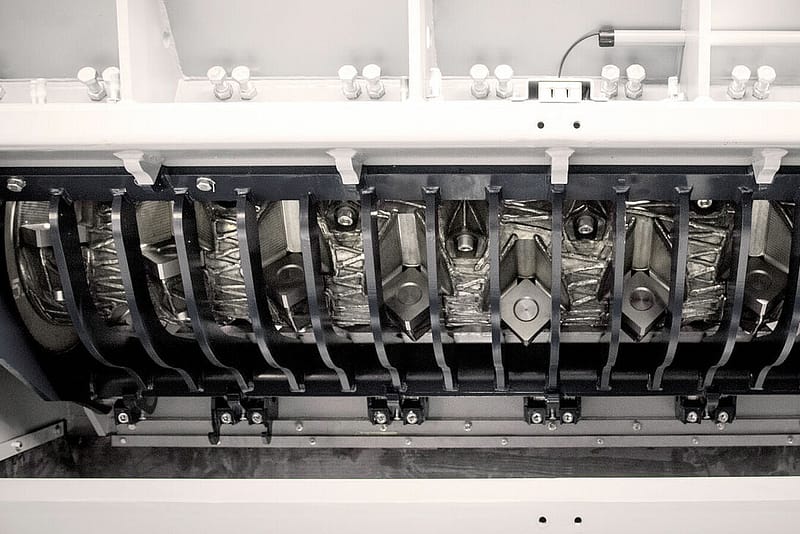 PLUG & GO SCREEN UNIT
More info

Close
PLUG & GO SCREEN UNIT
The swivel-mounted, hydraulically operated screen unit allows for easy and comfortable access for maintenance and refitting. The screens are available with various mesh widths and can easily be changed by hand by just one person – so you can quickly customise the shredder to the particle size you need.
FLEXIBLE OUTPUT SIZES     made possible with screen units in various hole sizes.
EXTREMELY SAFE OPERATION   thanks to the electromagnetically locked screen access point, preventing access to the cutting system while the machine is in operation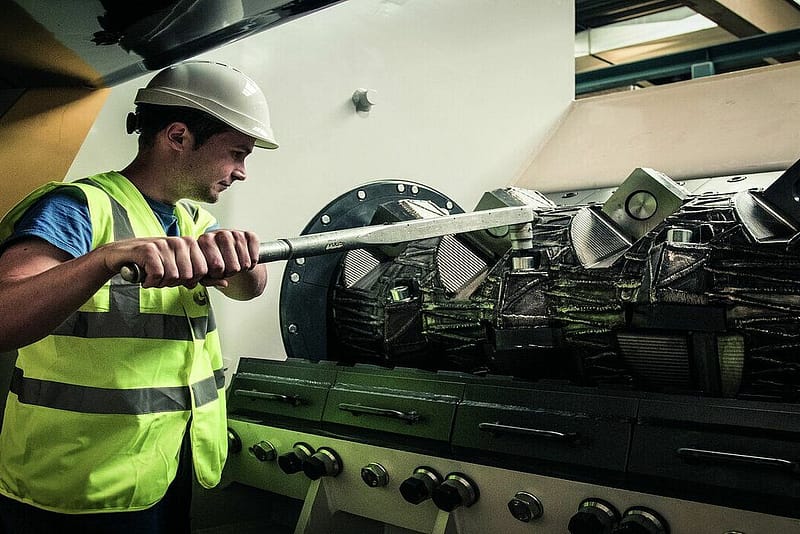 HYDRAULIC MAINTENANCE DOOR
More info

Close
HYDRAULIC MAINTENANCE DOOR
The hydraulically operated, inward-opening maintenance door allows you to quickly and safely access the cutting system for maintenance work or swiftly remove foreign objects with minimum material leaks.
REMOVE NON-SHREDDABLES QUICKLY AND CLEANLY
with the maintenance door at position 2.
ENJOY CONVENIENT MAINTENANCE ACCESS TO THE CUTTING CHAMBER
with the maintenance door at position 3.
Technical Data
"I cannot say enough about the outstanding quality of service that Mach-Tech Services provides, from the initial sales process to the installation and commissioning of our Lindner Jupiter 3200 a year ago to the outstanding Aftersales services we have received since. Mach-Tech Services really do live up to their good name and deliver on all that they promised during the sales process".
call us on 01706 838 246
or use the form to send us your comments about our products and services.
"*" indicates required fields