Since the 1970's both The McGrath Group based in Basildon and the Ron Hull Group based in Rotherham have been providing waste management solutions to their respective local areas, now almost 50 years later each company employs around 200 people and the two companies have ensured that they are at the top of the game when it comes to accreditations with both companies operating under Iso9001, 14001 and 18001 to name just three.


This is not where the similarities stop however, when, in the early part of this decade these two companies decided to move in to producing a -30mm Solid Recovered Fuel (SRF) the key decision makers from each company whilst carrying out their due diligence identified the Lindner range of Komet shredders as the most cost effective and productive machinery available.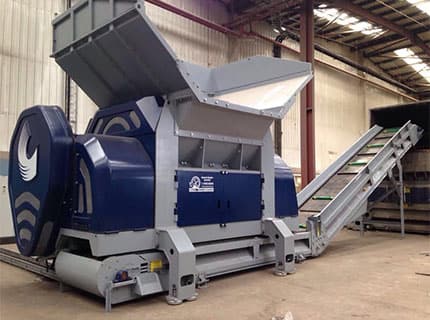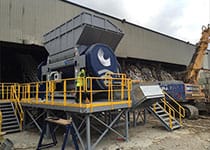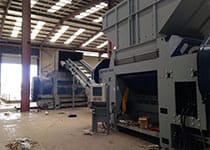 In London, The McGrath Group specified a Lindner Komet 2800HP with a throughput guarantee of a minimum of 18 tonnes per hour and fitted with Lindner BC1200K conveyors.
Meanwhile in South Yorkshire, a guaranteed 8 tonnes per hour of -30mm SRF coupled with the award winning 'Lindner Belt Drive' system gave the Ron Hull Group the confidence to order a Lindner Power Komet 2200.
Nigel Hull of Ron Hulls and Gerry Vine of McGraths both pointed to the commitment of MachTech to guarantee the throughput of the offered machinery,
'We had no qualms about ordering from MachTech following our sales meetings with them', stated Gerry Vine, Production Manager at McGraths Barking MRF, 'They didn't just tell us what we wanted to hear, they sold us the machinery on what it could do!'
'We visited a couple of operational plants operating Lindner machinery with service back-up from MachTech and all the operators said the same thing, reliable, productive and if there is an issue, fast response, just what we wanted to hear' Nigel Hull remembers.
So when both companies decided that 2016 was going to be the year they invested in static pre-shredding equipment, they both once again chose Lindner equipment, this time the Jupiter.
McGraths opted for the Lindner Jupiter 3200, the largest machine produced by Lindner Recylingtech and weighing in at almost 40 tonnes, the Jupiter is tasked with shredding large bulky wastes at the London company's premises prior to the material being fed to the existing Komet2800HP.
Meanwhile in South Yorkshire, The Ron Hull Group procured a fully reconditioned Jupiter 2200 pre-shredder from MachTech Services,, 'since it arrived on site everyone has just assumed it is brand new, such is the quality of the restoration work', Nigel Hull explained.
One of the key aspects for both customers to choose another Lindner shredder was the ability of MachTech's engineering staff to update the machinery software to allow the machines 'to talk' to each other, negating any excess energy consumption and maintaining both machines productivity.