The Mick George Group is approaching its 40th year of business and with its finger on the pulse of almost every sector of the waste industry, the company still continues going from strength to strength. Operating over 400 HGV vehicles from over 38 sites gives an indication of the scale to which the business has evolved over the years.
Now the Mick George Group have enlisted their first Lindner solution to perpetuate its outstanding reputation and recently expressed to MachTech Southern Sales Manager, Colin Irons, how pleased they are with the Lindner Polaris 2800
Site Forman Liam Rickwood said,
"We simply cannot fault the Polaris performance, it has completely exceeded our expectations, and is processing up to 25tph of RDF fuel stock for the incinerator at one of our clients' sites, it doesn't miss a beat."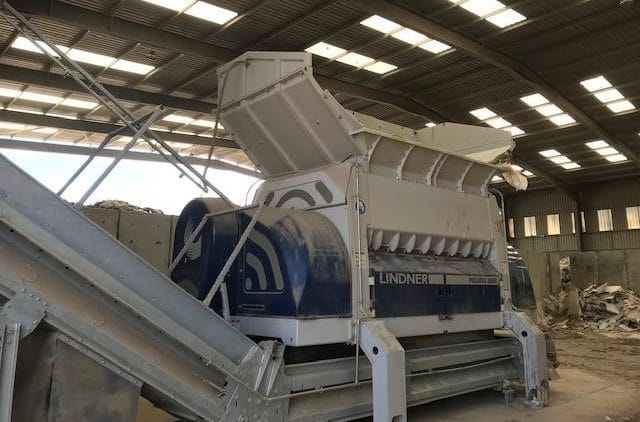 The Mick George Group also stated how very impressed they are with how easy the Lindner Polaris is to work with, adding that this was assisted by the level of comprehensive training that Mach-Tech Services supplied during and after commissioning.
Mach-Techs Southern sales manager Colin Irons was pleased to supply the Polaris 2800 to the Mick George Group after a site visit to demonstrate the shredder in application at an existing customer site in the North of the UK.
The Lindner Polaris makes short work of shredding, a real one-stop solution. This makes the production process more streamlined and cheaper compared to other technologies and also ensures an output quality, so outstanding that it was given its own name: Polaris material. And what's more: the shredding technology is so innovative that it created a new market segment – one-step processing.
* Comparative testing at the Chair of Waste Processing and Waste Management, University of Leoben, May 2017
Nothing can withstand the enormous power of the Lindner Polaris single-shaft shredder. Made for one-step processing of untreated municipal, industrial and commercial waste to obtain mid-calorific fuels (40 – 120 mm) ideal for co-incineration in calciners at cement works. Sturdy design and low operating costs are the hallmarks of this highly specialised shredder: enjoy uninterrupted shredding excellence 24 hours a day, seven days a week. With maximum efficiency throughout, as demonstrated by a field test: thanks to the countershaft drive, the Linder Polaris shreds twice as much material as comparable machines in the same period of time.
"*" indicates required fields