SB Waste (SBW) was established in 1992 by Steve Broadley, and after 26 years it's still very much a family business, that has grown a great deal.
Mr Broadley  now has three sites in Cannock, Birmingham and Wolverhampton UK, and  employs 80 staff with a fleet of 40 trucks covering a 30 mile radius They also offer a nationwide service for special hazardous products.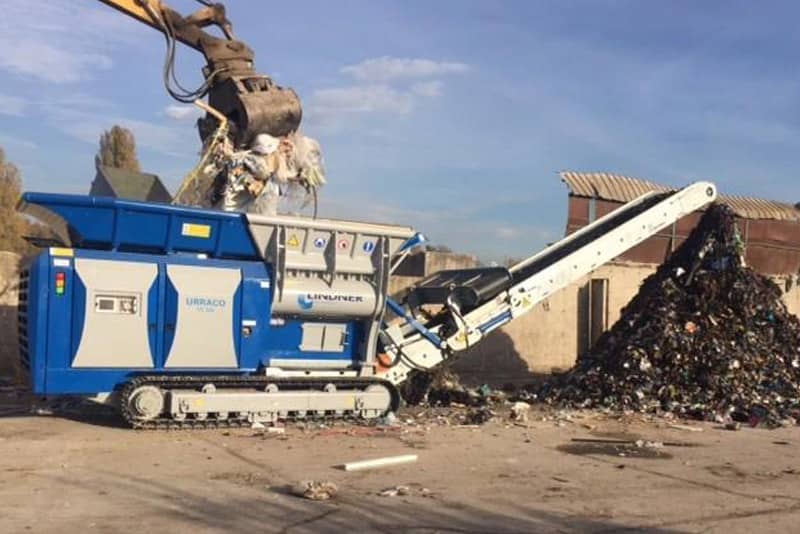 Mach Tech Services  first became involved with SBW when they were looking for a new mobile shredder. They had explored the market for a while when MachTech offered to demonstrate the Lindner Urraco 75DK mobile shredder. Although the machine was on site for two days it was clear on the first day that the operators were blown away with the Urraco's performance.
"The best we've had" were the exact words used by staff , and of course, we were delighted to get an order shortly afterwards.
SB Waste  has recently invested heavily in a complete recycling line from M&K and was looking for a secondary shredder to give him a good quality homogenous SRF fraction. Steve approached MachTech because of our extensive and proven track record in this market. It's worth remembering that Lindner technology has driven the RDF/SRF market globally, in the UK alone.
MachTech has installed equipment processes 778tph of SRF, in a one shift operation that equates to 1.5million tons of <30mm SRF. If that figure isn't fantastic enough, we all know that very few companies process SRF in one shift only, so the real figure would probably be nearer 3million tons.
MachTech  left the competition standing and showed Mr Broadly a number of sites producing SRF; we were again delighted when in January SB ordered their  second machine in the shape of a fully refurbished Lindner Komet 2200 which is now working in line using his Urraco 75DK as his primary shredder.
When asked why he chose the Lindner machines from Mach Tech Services, Mr Broadley,
replied:
"After looking at the competition, Mach Tech Services filled me with confidence, they didn't shy away from awkward questions and they knew exactly what I needed.Their sales approach was informative and not pushy; they clearly had the experience that we needed". he added
"When we visited a number of customer sites, Mach Tech insisted on leaving us alone with the customer, this gave us even more confidence in the product. We have had other kit over the years but we are extremely happy with Lindner, their machines need less maintenance and far less fuel.
Our Trust has been well rewarded, not only does the Lindner kit do the job extremely well but the after sales backup and support is second to none".
Watch this space for new applications, in the near future there  will be a large SRF application in Hemel Hempstead, and another SRF system into Guernsey
"*" indicates required fields